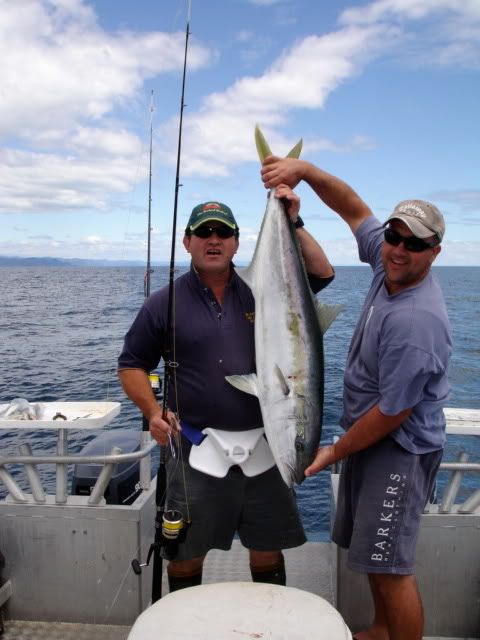 Ah, the weather couldn't have been nicer today. We headed out to the kingfish hot spot to jig for big kingies. After losing four rather expensive lures to barracuda, we finally landed some lnice kingfish. The fish they refer to as kingfish here are what we refer to as California yellowtail which we fish for on the Sea of Cortez in Baja. Our fish don't get nearly as big as the kingfish get here. We landed two, the first being around 20 pounds and the big one weighing in around 42 or so pounds. A respectble fish for sure and excellent eating. Paul was the hero of the day landing the big one.
Now that we'd lost our big jigs and growing weary of the barracuda that were plaguing us, we decided to head to a new spot for Terakihi for dinner. Now it was Lee who was the hero of the day. All in all, we landed about 11 Terakihi for our fish and chips meal tonight. Terakihi is my favorite food fish of New Zealand with a delicate but sweet flavor.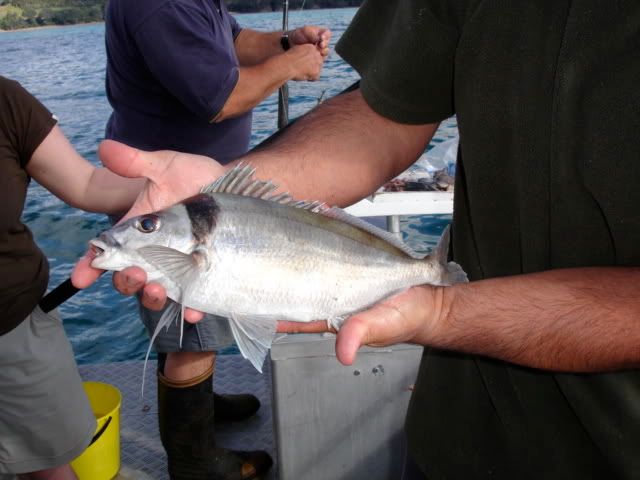 OK, now we know we have enough food for a respectable feed but we're not finished yet! Next we headed off to the rocks that were visible at low tide to dive for green lip mussels and paua (abalone). Oh and lets not forget the crayfish! Lee was our diver of the day and came back with his bag full of mussels, paua and crays. Wow, this is going to be some feast tonight!