So today I left the Murchison area and headed back toward Waipara and the grape growing region near Christchurch. I was heading to my friend Gareth Renowden's place to see his truffiere, talk mushrooms and see his shearers cottage. But first, I stopped at the swingbridge that goes over the Buller River and took some photos. This is the longest swingbridge in New Zealand which crosses the Buller Gorge...a long way down!
They have a ride called the high speed comet line which is like a zip line that you can either fly across on your belly or sit down like in a chair and ride across the gorge at high speed from great heights. I was hoping someone would come along and pay to go so I could video them. I suggested to the guy at the comet line that he find someone to go across and he said, he'd take my camera and I should go tell his mate Peter that Markie sent me and he'd film me...so that's what we did. It was really fun and not even as scary as walking across the swingbridge.
Before I got too far out of town, I stopped for a brief time to meet the new owners of Maruia River Lodge on the Maruia River. They are a lovely young couple and I think will do a good job as new lodge owners and I wish them the best of luck with their new venture. I had some extra time on my hands since Gareth had left me a message on my voice mail saying he was going to be in Christchurch until later and wouldn't be home until around 5:30. That meant I had time to take a rod and a walk on the Maruia River and see if I could find a trout to hook. Unfortunately I didn't see any trout so after about an hour and a half I was back on my way south and east. Of course it wouldn't be New Zealand if you didn't have to stop once in a while and wait for someone moving sheep.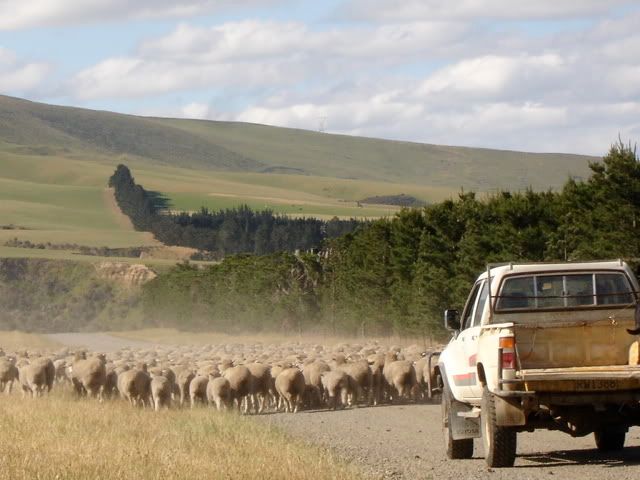 Did I hear anyone say truffles? Maybe not this time of year in the southern hemisphere, but Gareth Renowden and his wife Camille have a truffiere planted with English Oak and hazelnut trees with the roots inoculated with the tuber melanosporum truffle spore with high hopes of harvesting the black Perigord truffle this coming winter. Two winters ago he harvested his first ever truffle and hopes that by this next June there will be more. He also has planted olive trees for pressing into olive oil and a nice vineyard of Pinot Noir grapes and Syrah.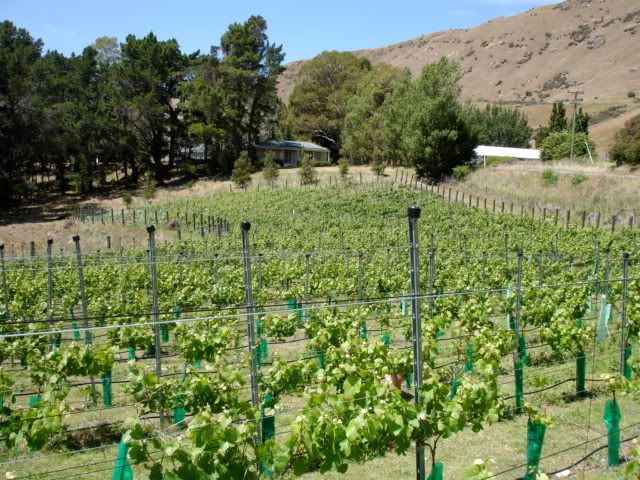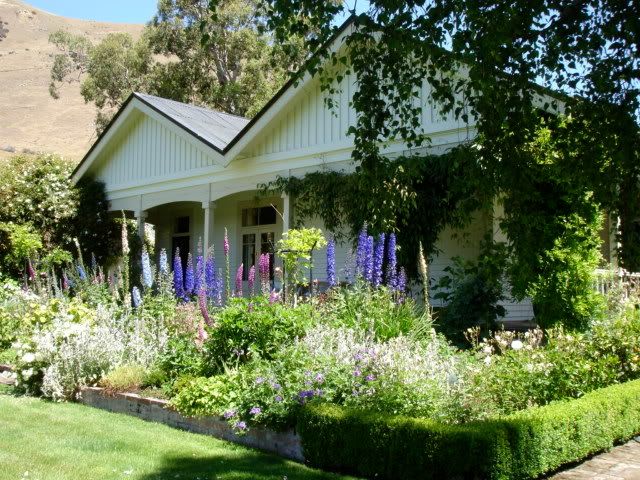 After talking mushrooms and travel all night and exhanging mushroom photos of Gareth's trip to China and Shangrila, and some of my multitude of mushroom photos of which Gareth refers to as "mushroom porn" since he lives in a somewhat mushroom deprived country now, we called it a night. Of course it didn't hurt that we had a lovely roasted chicken dinner and polished off 4 bottles of wine between the three of us.
Gareth has also just published his new book entitled "Hot Topic" Global warming and the future of New Zealand" I'm looking forward to reading it on the plane coming home.