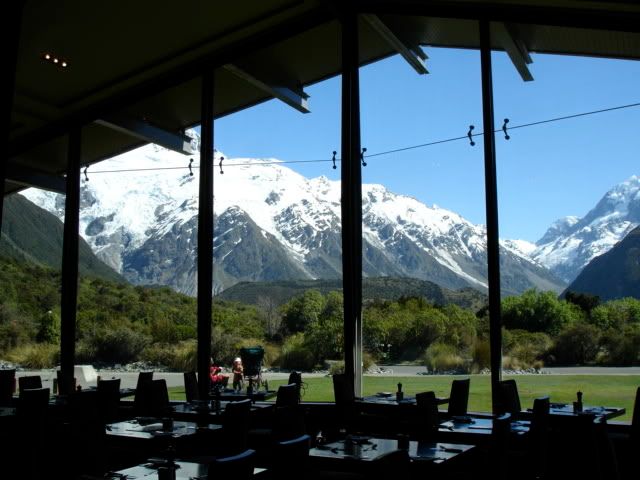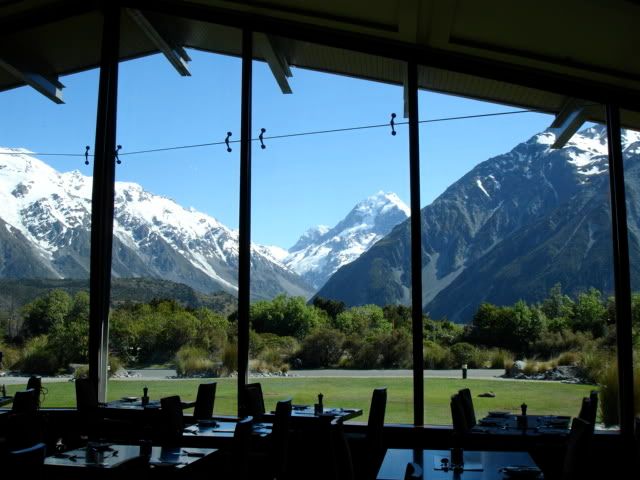 This morning Ian, the owner of the cottage where I am staying, and I got up early and headed for Mount Cook. I'd never driven all the way up there so we decided to make an early start and go all the way up to it. Ian was kind enough to do the driving and his Peugeot was the perfect car for dashing up and back. I was on a mission to take some photos of Mt Cook and the simply gorgeous blooming lupin all over the place. It was another crappy day in Pleasant Point, but just as we got over to the other side of the hills, to what they call the high country, it was sunny and clear as a bell with blue, blue skies. The perfect day for Aoraki.
We drove directly to the base of the mountain and had coffee at the Hermitage Hotel there and then came the photo essay for me. I took about 100 pictures on this little jaunt and wow, what a pretty day. The lupin are in bloom everywhere. I'd never seen lupin in so many colors; oranges, yellow, pink, purple, blue, peach.....and with the blue sky and white snowcapped mountains, it was great photo shooting.
We stopped at Lake Tekapo for a bite of sushi before charging back to Pleasant Point in just enough time for me to pack up the car and make my mad dash back to Christchurch to turn in the car and go to the airport for my flight to Auckland and on to Los Angeles. Once again my friends Susan and Ari met me at the airport and took me to a little restaurant near where they live for a quick bite of dinner and then off I went at 8:30PM. I got to Auckland with only enough time to spare, to take the free bus to the international airport, buy my departure tax and go straight to the gate where they were just ready to start boarding my 747-400 plane to Los Angeles. I'm not crazy about these late departing flights. This one doesn't depart until 11 PM and that's just too late for me.
So, next stop Los Angeles where I will have to clear customs and return my luggage for my flights to Salt Lake City and then on to Butte, MT where I won't arrive until 11 PM Monday night. This means around 36 hours on the road from door to door. I'm really looking forward to seeing my dog and not being on a schedule for a while!