Wow, what a view from this place! The Southern Alps in the background and all the colors of spring...pretty magnificent. Too bad the fishing couldn't have been as good. I guess we're not in Motu anymore, Toto!!!
Today John and I walked what seemed like an eternity over river rocks and didn't see a whole lot of fish. On top of that, the weather has changed a bit here heading into the mountains and the wind blew all day from the minute I got up this morning until now and I believe it's still howling out there. Ever try casting a flyrod directly into gale force winds? it's not pretty, let me tell you. At times my cast came back right at me and tried to wack me in the face. This is not my idea of fun and it's not at all like Motu where there are fish everywhere and you can SEE THEM!!!!! OK...enough whining. We only saw three fish and I hooked two of them and landed one...albeit a rather smallish one, but it was a sea run brown so it was feisty and different to look at. Better than nothing I reckon...although the pesky sand flies are not much fun to deal with...that's a fact of life on the west coast of the South Island though and you just have to be prepared with bug stuff which we were.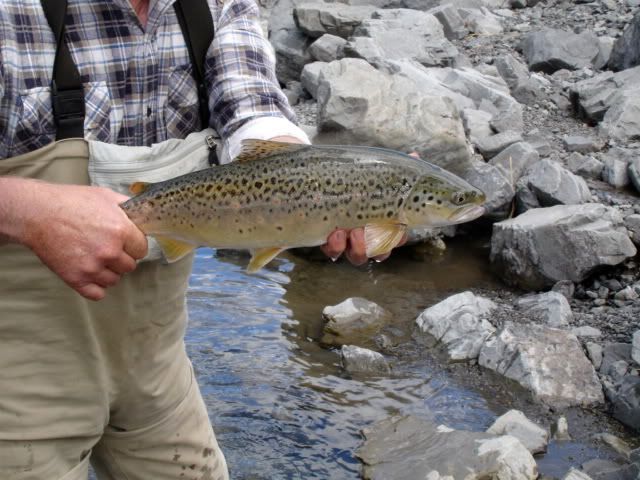 When we returned to the lodge, Robin had a pleasant surprise in store for me. We took a run into Hanmer Springs and she had a pass for us each to take a soak in the hot pools and have a Swedish Massage, which was absolutely delightful. It saved the day as far as I was concerned.... that was a very nice surprise and then we came home to the most elegant and gourmet dinner. They have hired a chef from Germany for the season as well as another person from Switzerland to serve and help out. They did a great job and the chef is quite talented.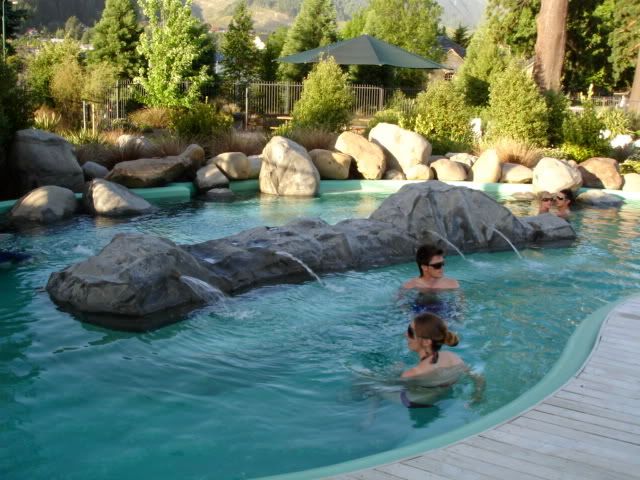 Tomorrow I have all day to drive all of two hours so I can take my time and maybe go back into Hanmer Springs and look around in the shops. Not much was open today as it is Sunday,
Ciao for now...I'm heading for bed.