On Monday morning, my friend Frank, a lodge owner, met me in Te Kaha and we drove back to Motu by way of the Waioeka River so we could have a flick of the old fly rod enroute. The rivers are somewhat low but clear as a bell so we saw lots of trout and I managed to hook 4 nice trout and land NONE! Oh well, we will be fishing the evening rise tonight on the Motu so I guess I can wait! After a nice dinner with some of New Zealand's premier Sauvignon Blancs and Pinot Noir, we headed out around 8:00 pm for the evening rise. There is a good caddis hatch here on the Motu as well as various and assorted mayflies. This is a clay bedded stream so no stone flies found here.
The evening rise got off to a slowish start but as it grew darker and darker, the fish were really starting to feed and I finally redeemed myself and caught a nice brown trout before it got too dark to recognize what it was.
Today, Tuesday, we spent the day on the Motu. This is a heavily regulated river on the north island between Gisborne and Opotiki and is all, for the most part, on private land which Frank has exclusive rights to fish. This is all farm land with beautiful green pastures full of sheep, cows, BULLS!!! and the most beautiful slow meandering stream running through it all. It's easy walking, wading and spotting since there are high banks on one side and gravel bars on the other. The easy way to do this with a guide is for the guide to be on the high bank spotting the fish and you are on the opposite side of the river casting to the fish as he tells you where it is and you are best to spot the fish first before casting.
This river is insanely full of trout. Today alone just in one beat, we counted easily over 100 fish and all brownies. Mostly in the 4-7 pound range. I managed to hook about 10 fish or so and landed about 6. I'm not going to say how many I totally missed because they got spooked. Then there are the three or so that were nice big fish and wrapped the leader around a log and got off. Geez these are smart fish!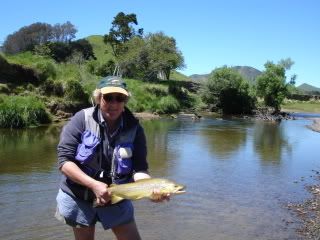 Tonight we'll go out for the evening rise again and then tomorrow we have new water to fish and will go play with the rainbows.